Life is crazy.
I'm stuck again. Overwhelmed. Trying to find some sort of balance in providing all the wants and needs of my family.
Lately I feel like I'm lost. Like I've lost control and I've created a mess of things.
I have to get back to some sort of order.
Last week I stumbled across the ebook, 31 Days to Clean- Having a Martha House the Mary Way.
It was only $4.99 to download so I grabbed it (another freebie thanks to my
Swagbucks
!)
So far I've read the first week and participated in the Mary & Martha challenges at the end of every chapter. The chapters are short, easy reads that take me under 5 minutes to finish. The Mary challenges are simple and get my mind thinking about what & why I want what I do and how to go after it. The Martha challenges are super easy and very straight forward. She breaks down the entire kitchen over a week... one day you clean the outside of your cabinets and the next you clean your oven.
I think this could actually work for me.
On September 1st The Homemaker's Challenge is kicking off a challenge running through the book together.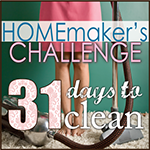 And so I'm going to put my neck out on the line and commit to this... publicly!
Maybe a challenge is just what I need!!