Well I made it through another week on Project Toddler Runway with my Hey Miley! Sequin Cardigan.
I was floored when I saw what the other girls had made. Everything from fur coats to full feathered gowns!
In the end this cute little outfit took the prize.
But this amazing dress was out!
Isn't it gorgeous? I'm so sad that this was in the bottom and sort of dumbstruck as to what could have happened. The pictures were a bit hard to see what was going on and if you didn't read the description of the dress it was a bit confusing. In one picture it looked like a very simple black dress and then in another you could see the amazing feather details. You had to read the description to know that the full feather skirt was detachable for versatility and easier care. But oh I'd love to see that dress in person and I'm so looking forward to April's tutorial! Go check out her
blog
and become a follower so you don't miss out on it!
My sequin cardigan fell somewhere in between.
When I first read the details of this challenge I wasn't too happy. See... I'm not a sequin or fur or feathers kinda girl. It's all just a bit much for me really. But then I remembered seeing these sequin cardigans around that looked so super chic with jeans.
That's my kinda style.
Simple and classy but still fun and fashion forward. I knew right away that Miss Livi Lu
needed
one.
On with the tutorial... actually, I feel really silly calling it that. This thing was so easy to make it's just rediculous! Aaaand I don't have any pics of the work... doh.
But if you need help or a pic just ask and I'll get it!
Step 1:
Cut your bodice.
Lay out your sequin fabric and lay it out... folded in half just like you bought it off the bolt.
Find a shirt that fits your little girl. My fabric had a bit of stretch to it but not as much as her knit shirts so I used a shirt with very little stretch to it.
Take note of the direction of your fabric's stretch. Chances are it stretches a bit both ways but mine stretched more one way than another. You want to lay the shirt you are tracing on top of the fabric so that the stretch runs from side to side and not up and down.
Tuck in your sleeves so you can see the shape of the arm holes and shoulders and cut. You'll want 2 of these.
Now take one of your bodice pieces and cut it in half so you've got the 2 front pieces of your cardigan.
Step 2:
Cut your arms
Pull your arms back out of your tracing shirt.
Fold the arms on the seam and make sure that your are cutting your fabric with the stretch going the width of the arms and not the length (just like you did with the bodice).
You'll want to cut this on a fold and cut 2 of these too.
I didn't think of this until later but wouldn't it be cute to have some puff in the sleeves like Anne Hathaways Golden Globes dress!!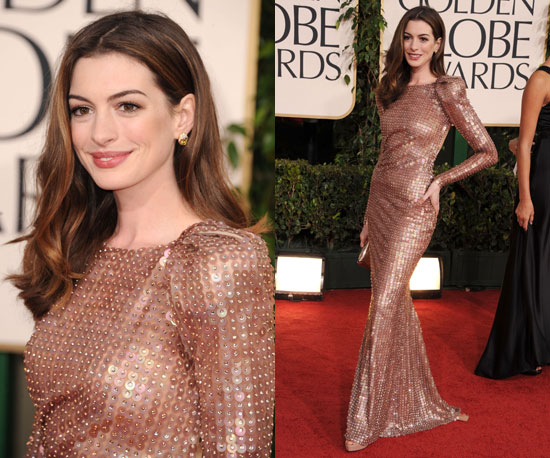 So cute!
Step 3:
Cut your lining
Repeat all those steps with your inner lining fabric.
The sequin stuff is super itchy and Livi ran from me every time I tried it on her! So make sure you line it with something.
The stuff I used was a bit to stiff and I wasn't crazy about how the edges turned out, so I'd recommend something soft and thin.
Step 4:
Put it together
Now that all your pieces are cut you can start putting it together.
First match up your shoulder pieces and sew together.
Then sew up the sides and arm seam.
Repeat those steps for your lining.
Step 5:
Attach your cardigan to the lining
Put your lining and sequins right sides together and sew the neck line and fronts of the cardigan.
Now flip it so it's right side out and fold in your edges on the bottom of the cardigan and stitch shut.
Repeat for each of the sleeves.
And that's it. You're done!
Now your little fashionista has a Hey Miley! Cardi too!
I paired it with some skinny jeans that were oh so easy to make thanks to this tutorial from
Freshly Picked
and a white tissue tee with military style shoulder cuffs.
She apparently felt the ensemble was missing something and grabbed some oversized shades, my iphone and wallet to complete the look.
I'm gonna be in big trouble with this one huh?