Today I stumbled upon The Blog Guidebook and wow... where have I been?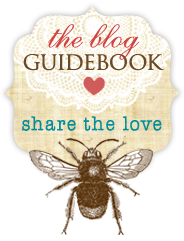 This site is like blog heaven!!
#1

How about a free ad and listing on their blog?
#2

Simple tutorials & blogging tips for things you didn't know existed for your blog!
- today I learned how to make my navbar (that thing at the top of the screen) disappear until you hover over it! Cool huh?

Just enter this code into one of your html gadgets in your side bar:



-a place to find giveaways and linky parties all over blogland & you can link up yours... again... for FREE!
-they have put together a team of designers that will come check out your blog and let you know what you can do to make it a bit better!